Consumer demand is materially dropping in many areas due to travel and 'social distancing' restrictions, as well as a wariness of spending money in a time of uncertainty. Supply chains are challenged, impacted by manufacturing shut downs and availability of staff. These issues have been exacerbated by the ongoing oil crisis, which has led to a glut in oil supply at a time of falling demand. All this has impacts on client investment portfolios, with major drops in equity holdings only partially offset by positive returns in bonds and commercial property.


What is the history of bear markets?
Bull and bear markets are the common experiences of stock markets all over the world. The term 'Bear market' is used when indices such as the FTSE100 experience a drop in value of over 20%, whereas a Bull market would see a 20% increase in value. As we look back over the decades it's important to recognise the wider context of bear market periods, what were the key drivers behind them, and the periods of recovery that followed. Here is a graphical example of FTSE All-Share Index investments from over the last 35 years, showing you the drivers behind key moments in the marketplace.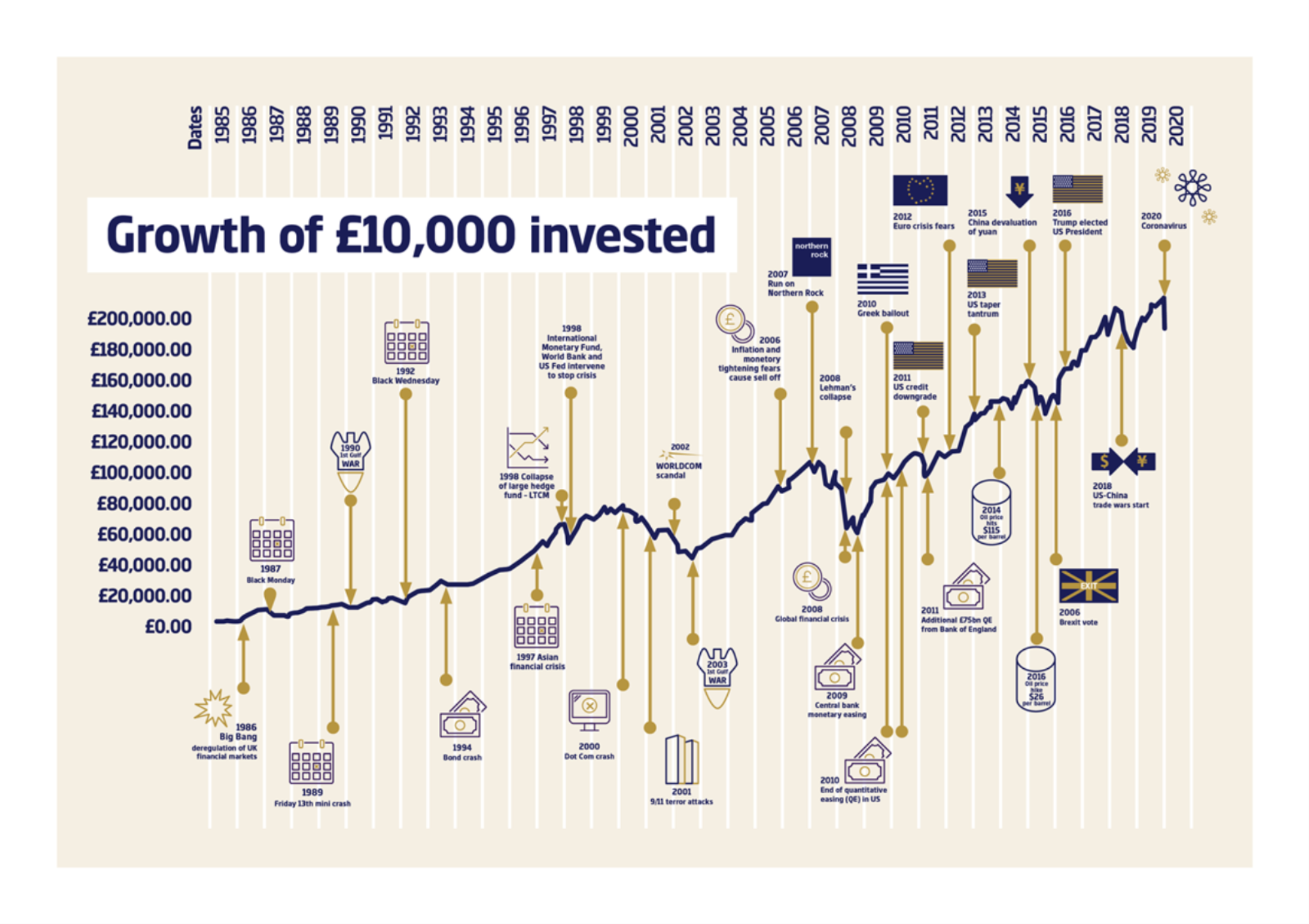 Source: Financial Express. FTSE® All-Share Index, total return with dividends reinvested, from 31 December 1985 to 27 February 2020. These figures don't take into account any charges or the impact of inflation. Figures refer to the past, and past performance isn't a reliable guide to future performance. Please note this graph is to the end of February.

Of course past performance is not a guide to the future, but it does show a long period of time in which there have been multiple, significant drops in value, which over time are then offset by periods of growth. It's interesting to look at how long recoveries have historically taken.


How long will the current bear market last?
This, of course, is the million dollar question. The lessons from history suggest that event driven bear markets (driven by war or natural disasters), have been somewhat shorter than structural or cyclical bear markets (which are more driven by financial bubbles, rising interest rates, and multiple drivers behind a recessionary period). It is important to say, that while the current bear market is more event driven, it is a very significant event, spreading to all corners of the globe, and evidence is only just beginning to emerge about abilities to contain and ultimately cure the pandemic. The scale of impacts that it brings, means that there is a high likelihood of various countries moving into at least a short term recession, based on projected performance during the first half of this year.
Experts are giving views about what lies ahead for markets, based on their best analysis and reading of events. We have summarised the views of Aberdeen Standard Investments (ASI) following their latest Coronavirus webinar:
Although a recession is now unfolding in the short-term, ASI's base case is that the declines in markets are likely to slow, before eventually snapping back. The triggers for this recovery period are likely to be widespread success in suppressing the virus, and evidence that government intervention in the economy and markets are bearing fruit.
There is a more adverse scenario involving associated with a sustained tightening in credit conditions combined with a growing shortage of US dollars and a large increase in unemployment. This would lead to a deeper and more prolonged recession, and weaker recovery, more akin to what happened during and after the global financial crisis.
Nevertheless, ASI believes that as long as the virus is contained, the global economy will prove more resilient than it was in 2007/08, primarily because:
•
Bank balance sheets are considerably stronger- reducing the chances of a financial crisis;
•
Private sector imbalances are generally concentrated in the smaller, less systemically important economies; and
•
Governments and central banks appear set to provide much larger and better targeted support for companies and individuals.
Summary
Bear markets are always challenging times, and bring uncertainty and questions about recovery. Our Financial Planners are regularly speaking to clients to answer questions and importantly understand any changes in circumstances. Where there are no significant changes in goals, objectives or current circumstances, and clients are invested for the long term, we encourage composure, and taking that long term view. However if your circumstances have, or are likely to change, we would ask you to speak to us.
We are definitely seeing high levels of volatility (with the recent market falls making their way into the top 5 daily drops of all times). This is due to the scale of countries, sectors and markets impacted by the pandemic. We don't, however, believe that there has been a change in the fundamentals of how investment markets work. Markets are pricing in the multiple impacts of the pandemic, and this is driving large sell offs of equities, reducing demand and therefore values. Based on investment history, at some stage the situation will turn around, when greater evidence is seen of the pandemic peaking and then recovery taking place and supply chains and consumer behaviours returning to normal.
We continue to see the benefits of broad diversification in client portfolios. Looking at the period from 1st January this year to 18th March, the FTSE100 lost 31.9% in value, while one of our typical medium risk client portfolios, has lost 16.9%*. Our investment managers are working every day to review developments and put clients in the best position possible.
If you have any questions or concerns, please contact your 1825 Financial Planner. We are operating in challenging circumstances, but they will get in touch with you as soon as possible.
*please note there are some issues in current valuations of underlying assets. This is particularly impacting valuations of property funds at the present time.

The value of all investments can go down as well as up and may be worth less than was paid in. Rights in the FTSE® All-Share Index vest in the FTSE International Limited ("FTSE"). "FTSE" is a trade mark of the London Stock Exchange Group companies and is used by FTSE under licence

The information in this article should not be regarded as financial advice. Please remember that the value of your investment can go down as well as up and may be worth less than you paid in. Information is based on Aberdeen Standard Investments' understanding in March 2020.