Retirement is a huge step though, and with average life expectancy in the UK now at 79 for men and 83 for women, you've got to be confident that you can fund the lifestyle you want for several decades to come.
How to retire at 40
Most of the existing "how to" guides for early retirement focus on frugal living, where enthusiasts save and invest 70 or 80% of their income to enable them to exit the world of work early. Some of the real-life tips for super-saving include not buying any food (you rely on other peoples' leftovers for sustenance), only ever buying second-hand, or, the "5:2 money diet" where you spend nothing at all for five days a week.
Clearly this approach means committing yourself to an ultra-thrifty lifestyle – not the financial freedom that most of our clients desire. If you do stop working at 40, you're likely to spend half your life in retirement – and if it was me in that situation, I'd rather work to make it a retirement I enjoy than simply race to get there early. Of course, that depends on how you feel about your job, and for some people sacrificing luxury might be worth it…
Either way, whether you save every available penny for the future, or decide to retire a bit later in life, there will come a point where you start to wonder "do I have enough?".
Retirement – what's the magic number?
Alongside the guides for super-saving, there are a number of articles at the moment suggesting ways to calculate how much you need to have saved up before you can retire. The most common one I've seen is the 4% withdrawal rule. This is mainly used in American retirement models and suggests that you can take your desired retirement income and divide it by 4% to give you the figure you need.

In the UK, according to AEGON's 2016 Retirement Readiness Report, people want an average income of £38,000 per year in retirement. So following the 4% rule, that means you would need at least £950,000 in your pension pot.
However, for the 4% rule to work out, it makes a couple of very bold assumptions:
You will never withdraw more than 4% of your savings each year
You will always earn at least a 5% return on your retirement savings (after taxes, inflation and charges)
And this is where I start to worry. The 4% idea is fine as a basic rule of thumb, but if people base huge life decisions on it, that's where they could run into problems. No universal rule can take individual circumstances into consideration, and there is a risk it could become one of those ideas that just gets hard-baked into people's plans.
Your number is personal – and your plan should be too
A sustainability model like the 4% withdrawal is unlikely to work in the real world because it's so generic. In most cases, people don't want to be restricted to withdrawing a certain amount year on year – they want flexibility to use their money when they choose; maybe to pay for a child's wedding, or to put down a deposit on a property, or to go on the trip to a lifetime. It will be different for everyone, and that's why your plan, and your figures, should be different too.

The other main issue is relying on hitting a fairly high rate of return every year without fail. What if the markets experience a drop? What if you're not comfortable taking the level of risk needed to achieve those returns? And of course, the word 'risk' is there for a reason – when you're investing you always have to be aware that values can fall and you could get back less than you paid in.
Then there's tax. It's all very well saying that you need x% after paying tax on your investments, but in reality it's much more complicated than that. What kind of tax are you paying? Is it Income Tax on your pension withdrawals, Capital Gains Tax from selling investments, or Dividends Tax? When are you taking an income, and will that affect your tax treatment? The 4% rule acts as if your retirement income all comes from one big pot, but for most people, you will have multiple sources and the strategy you adopt for accessing them can have a huge impact on your tax efficiency in retirement.
Create a bespoke retirement strategy
One of the ways we address the issues I highlighted above is to model our client's retirement goals so they can see how things might play out in advance. We can test different scenarios to give you confidence to make decisions about the future – in a way that lets you design the retirement you want.

Here's an example of how a modelled retirement might look: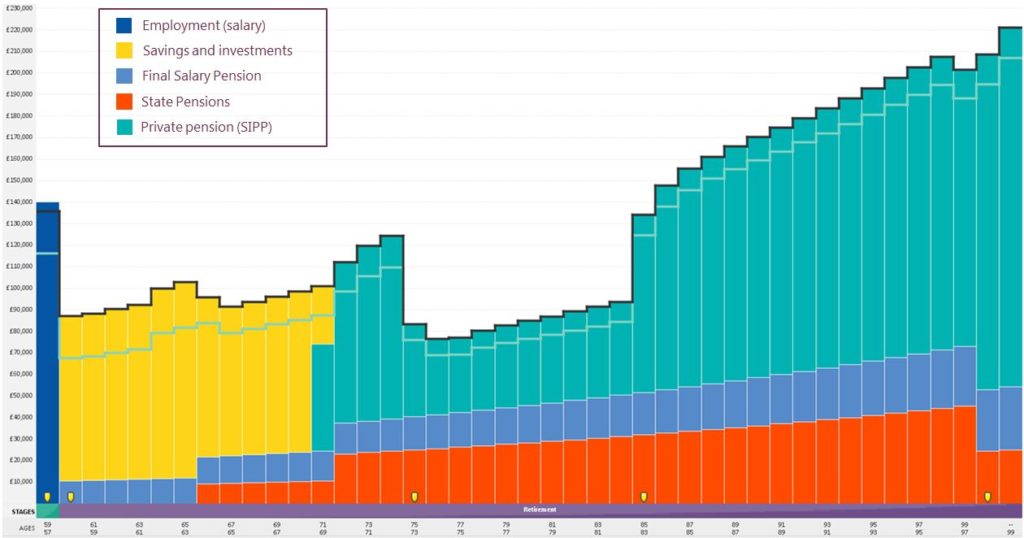 Voyant Cash-Flow Modelling example (Source: Voyant Cash-flow Modelling tool*)
The diagram above shows the retirement plan for Mr and Mrs P. As you can see, we're able to take all their assets into account, not just their pension, so we can strategically assess all the available resources to create a plan for the future. It also lets us look at things on a joint basis for couples.

You'll also notice that their expenditure isn't in a straight, even line. Mr and Mrs P want to spend a bit more at the start of their retirement when they're likely to be most active, then their outgoings take a dip in the middle, at about age 75 as they think they'll probably slow down a bit and go on fewer holidays abroad. Then ten years later, they wanted to build in the potential for long term care costs, so expenditure rises again so they can see that they could afford care if it was required. This flexibility is much more realistic (and helpful) than rigidly withdrawing the same amount every year.

This model also takes inflation into account, which is why there's a general upward trend in the amount of money they need to take. We also look at the plan with tax in mind, calculating how much Mr and Mrs P will have to pay each year and showing it as part of their expenditure on the diagram. As part of the plan, we can assess the most tax efficient order of withdrawal from all the available liquid assets – for example in this scenario it makes most sense to leave their pension until last.
Stress test so you don't stress
I mentioned that we can also test different scenarios to help give a little peace of mind. In the example with Mr and Mrs P, they were worried about the effect of another big market crash, similar to 2008. We factored this in to their plans, to show what the impact could be: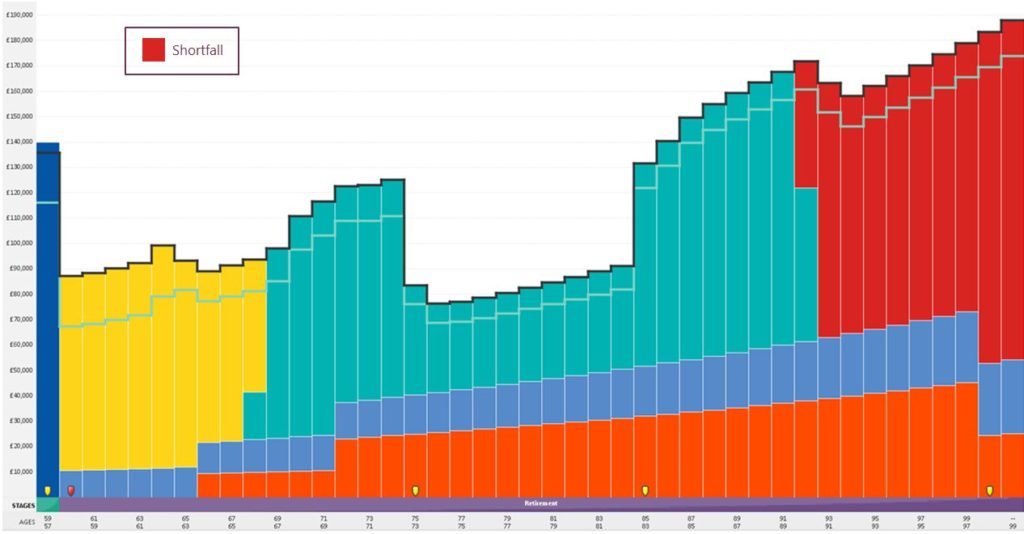 Voyant Cash-Flow Modelling example - showing market shortfall (Source: Voyant Cash-flow Modelling tool*)
Here we can see that if a 2008-style crash were to happen again, Mr and Mrs P would fall short of their desired income when he is 93 and she is 91.

You might think that seeing that red is quite a difficult moment for clients, but actually in our experience, it's quite empowering. This approach let's people see how their biggest worries would play out, and armed with that knowledge we can plan how to deal with it before that time comes. It's much more powerful than crossing your fingers and hoping for the returns you need, and means you won't be completely blindsided if things do go wrong.
Planning is more reliable than magic
Super-saving and formulas for "magic numbers" aside, if you ask me, the best way to figure out when and how you can retire is through good financial planning, and the choices and freedom it can give you. Research by Prudential found that people who retire early are more likely to have sought financial advice than those who intend to work until their retirement dates, and I have to say I'm not surprised.

If you've been wondering about the recent coverage on early retirement, hopefully this has cleared up a few things. But if you have any questions, your 1825 Financial Planner would be happy to help.

And if you're currently thinking about retirement, whether that's trying to build up your savings, planning how best to access them, or wondering whether you can afford to retire, get in touch to arrange a no-obligation consultation with an 1825 Financial Planner.


Laws and tax rules may change in the future. The information here is based on our understanding in July 2017. Personal circumstances also have an impact on tax treatment. Investments can go down as well as up and you may get back less than you pay in. The information in this blog should not be regarded as financial advice.

* These results are based on a number of assumptions regarding the client and investment returns, and are, therefore, subject to a number of risks and uncertainties that could cause actual results to differ materially from the assumptions. This represents only one of many possible outcomes. Past performance of investments is no guarantee of future results. Nothing contained herein should be construed as an offer to sell or as an offer to buy securities. Copyright © 2007-2016 Voyant, Inc.