These milestones get us thinking about our long-term goals and whether or not we're on track to meet them.
David Murray, Regional Advice Manager at 1825, is fast approaching one of these milestone birthdays and has challenged himself with a different type of goal (or challenge depending on how you look at it); he will be running the London Marathon 2019 in the name of raising money for charity.
David tells us more in his own words:
Why have you decided to run London Marathon this year?
With the 'big' birthday coming up this year, I decided to challenge myself to secure a place in the marathon. I also thought it was a good opportunity to raise money in support of an animal charity very close to my heart, the SSPCA (Scottish Society for the Prevention of Cruelty to Animals).
Can you tell us a bit more about the SSPCA and why it's your chosen charity?
The SSPCA is Scotland's animal welfare charity and is hugely important to me and my family. We're keen animal lovers and both my wife and daughter volunteer to support the animals under its care.
Also, when looking at the SSPCA website, I noticed they receive no government funding. This played a part in them being my chosen charity as donations such as those raised through marathon participation are a vital part of keeping the charity afloat and able to carry out the great work that it does.
How's your fundraising going so far?
Well, I'm hovering around the 50% mark raised of my total goal! With 9 weeks to go I'm hopeful that'll I'll reach the full amount.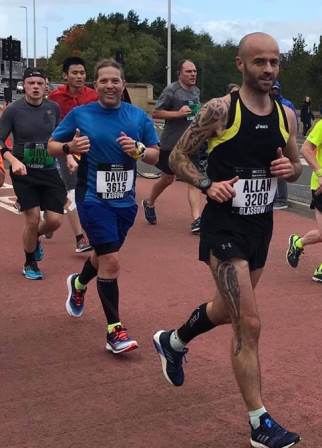 From all at 1825 – Good luck David!