That figure currently sits at around 5 million people world-wide every year.
Yet if you ask the average person in the street about meningitis, they may tell you about a rash on the skin and the 'glass tumbler test'. Valid points indeed. They would of course be forgiven for not knowing the ins and outs of the symptoms and after effects that it can bring.
With that in mind, and having recently sat down with Jeff, I wanted to share his inspirational story.
Back in 2009 Jeff was one of those people who didn't know too much about meningitis. However all that had to change when his son, Jothi, was diagnosed with the disease at the age of only 18 months. The diagnosis was one thing; but it has been the lasting aftereffects that serve as an additional and unexpected hurdle to overcome.
Jeff is now passionate about raising awareness and helping to raise funds for the Meningitis Research Foundation. He is also a Paraplanner in our London office.
Jeff's story in his own words:
I went interrailing in 1994 and immediately fell head over heels in love with travelling. It seemed an intoxicating mix of freedom, amazing sights and meeting people from all over the world. On that trip, I kept a diary that stayed away from mundane details but covered the events that amused or fascinated me.

In the following years, I squeezed in some brilliant trips and would keep a uniquely Jeff Brown style diary. Over the years my writing improved and I worked hard to make the diaries smoother whilst extracting details that were verging on the boring. After my world trip in 2001/2002 I seemed to have come to the end of my diaries and put them away. Then a couple of years later I got them out again and worked on them some more and put them away forever. Well forever in the two years sense. Then put them away again. In the meantime, I headed off on other trips to places like Nepal, Morocco, Russia, Bosnia and Norway but my appetite to keep a diary and spend weeks writing it up had dissipated.

I went on to meet Bharathi and we had a little bundle of joy in the shape of Jothi. As with any baby, Jothi seemed to eat time by the bucket load. I knew in all likelihood I wouldn't write another diary.

Then, in 2009 we found ourselves in an intensive care ward with Jothi clinging to life. He had contracted Meningitis. We were presented with a diary by nurses and told that we should write in it to come to terms with the life-changing events that were unfolding. The irony of being told to write a diary was not lost on me and it felt like an old friend had returned to support me. It was probably then that I realised how amazing diaries really are. It really did help me come to terms with events.
Jeff's bid to raise awareness
Several years later Jeff picked up the 'intensive care' diary and while it was an emotional read, it inspired him to turn his diaries into a book. The book promises to take the reader round the world. In the first six diaries you'll find; a disappearing hostel, wrong trains, flashing Danes, dangerous animals, lost cities, murder on the Inca Trail and so much more… The seventh diary is what makes a travel book more than a travel book. It's the intensive care diary. And it takes the reader through every parent's nightmare of watching your child fight for life in hospital. Although the last diary is an emotional roller-coaster it still manages to include a hairy male bridesmaid, a beautiful Indian princess, a hijab-wearing eye-poking lady of inspiration, a four-year-old adviser to the gods, tears, heroes, lucky pants, Napoleon, lots of tea and a guest appearance from the eighties pop siren Belinda Carlisle.
How can a book help you might ask? Jeff is donating 80% of author royalties from his book to the Meningitis Research Foundation (MRF).
MRF are striving for a world free from meningitis where effective vaccinations can protect everyone; where the most effective diagnosis and treatments possible are available; and where people affected and their families have the best support and information made available to them.
Jothi
Since his diagnosis, Jothi has undergone more treatments including various surgeries to counteract the side effects from having had meningitis. With the resilience and strength that it sometimes seems only children can have; he is a remarkably positive 10 year old boy who is more focused on playing football than dwelling on the damage caused to his legs from meningitis.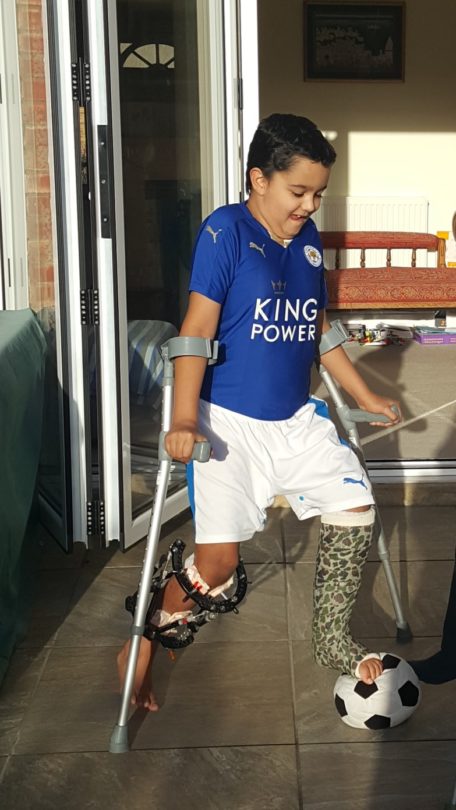 If you would like to follow Jeff's story, you can find updates on the amount raised and pictures from the events in his book on his website. His book 'An Ordinary Man's Travels in an Extraordinary World' is also available in online bookshops.