They had a good run though. In 2017, these five stocks generated an average return of 50% and both Apple and Amazon famously became the first and second companies ever to exceed a market capitalisation of $1 trillion. They've been the lifeblood of this bull run, but is the tech boom coming to an end? As we know, past performance is not a guide to future performance.
Why are investors dumping tech stock?
Over-valued share prices are one reason why the technology sector has sold off so much in this latest market correction. But there are a few other reasons why investors are selling.
They're worried that tech earnings have peaked – Amazon has reported its slowest growth figures in two years. Meanwhile, rising interest rates are another concern. As bond yields increase, we're seeing more investors move out of tech into other sectors like healthcare and utilities. And on top of all that there's growing concern around increased regulation, especially for social media, and the uncertainty of the ongoing trade wars with China.
Slow and steady wins the race?
Market volatility is unnerving. But, at times like this, it's important to remain calm and remember that volatility is part and parcel of investing over the long term. The moral of the tortoise and hare story is that you could be more successful by being slow and steady than quick and careless. When it comes to investing, is "slow and steady wins the race" the name of the game? The longer you're in it, the more likely you are to reap the rewards. Of course, there's no guarantee as the value of investments can go down as well as up, and you could get back less than you pay in.
"Time in the market" is another favourite saying among finance professionals, and it's easy to say when things are going wrong. But when you take a step back and look at market events in context, it's clear to see why it's consistently the advice that's given: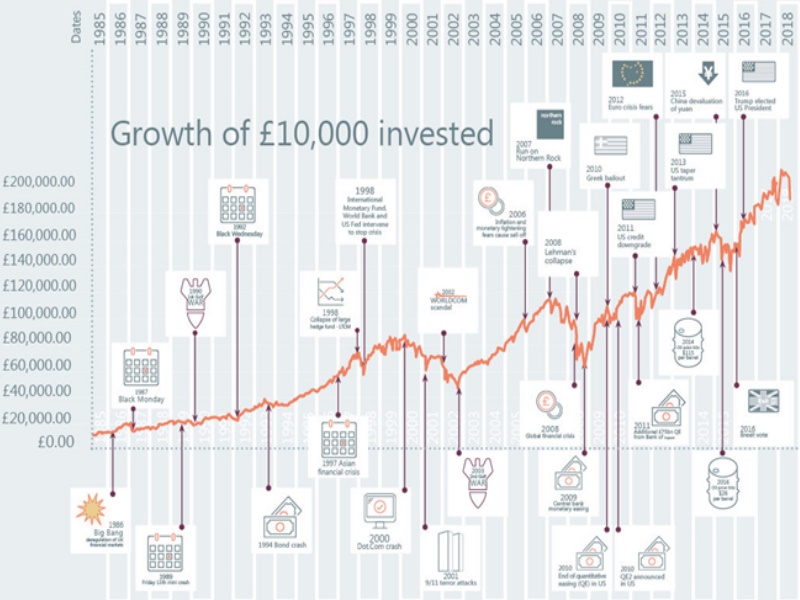 Source: Financial Express. FTSE® All-Share Index, total return with dividends reinvested, from 31 December 1985 to 31 October 2018. Figures don't factor in any charges or the impact of inflation. Figures refer to the past and past performance is not a reliable guide to future performance.
The chart above shows the major market events between 1985 and the end of October 2018 (as far back as FTSE® All-Share Index data goes) and tracks the growth of a £10,000 investment over that time. A lot happened, and there were definitely bouts of panic, but if that £10,000 had remained invested for the whole period, the growth would have been remarkable – even taking charges into account, which the graph doesn't.
But what's really good about looking at all of the years of activity all at once is that it really brings things into perspective. 2016 and 2017 were billed as a turbulent year for markets. But if you look at the impact of Brexit and the US election in relation to everything else that's happened in recent history, it seems far less momentous than it would if we looked at the events in isolation.
Remember that the value of an investment can go down as well as up and could be worth less than was invested.
There will always be ups and downs
While it's very difficult to time market falls exactly, in his market reviews, Andrew Milligan has been highlighting for some time now that a correction in equity markets wouldn't come as a surprise.
Encouragingly though, he believes there are few signs that a major sell-off is likely in the next couple of years – unless there any major global shocks.
So what could you do?
Markets can be volatile, so instead of trying to predict the exact moment of the falls and rises, it's better to focus on what you can control.
Spreading your investments across different asset classes and regions could help you achieve the best possible returns for the amount of risk you're comfortable taking. The main aim of this strategy is to reduce your risk of heavy losses in troubled times, without compromising too much on performance. By aiming to limit losses in the first place, it leaves you in a better position to make money when conditions improve again. Your financial planner will make sure you're using the right strategy for your goals. Remember, investing for the long term doesn't necessarily mean staying in exactly the same investments over the years.
Nowadays any important event, wherever it happens in the world, may have an effect on financial markets. That's why fund managers actively monitor our portfolios, so that they're able to make tactical changes to take advantage of the opportunities presented by changing market conditions. If you want to keep up-to-date with what's happening in global markets, read Andrew Milligan's monthly market review.
If you have any questions about something you've read here, your 1825 Financial Planner will be happy to help.
This blog should not be regarded as financial advice. The information here is based on our understanding in November 2018 and will not be updated.
The FTSE UK All-Share Index is calculated solely by FTSE International Limited ("FTSE"). FTSE does not
sponsor, endorse or promote this fund. All copyright in the index values and constituent list vests in FTSE. Licences have been obtained from FTSE International Limited to use such copyright in the creation of this fund. "FTSE®" is a trade mark jointly owned by the London Stock Exchange Plc and The Financial Times Limited and is used by FTSE under licence. "All Share" is a trade mark of FTSE.