Financial market performance has been stable for such a long period of time that a sense of complacency had begun to set in with some investors. As an example, the US stock market saw 15 consecutive monthly increases from late 2016; the last time this happened was the early 1950s.
Surprise bouts of volatility will always unnerve investors, especially after such a long period of relative calm. So to help provide some much-needed context I spoke to some of the experts at Aberdeen Standard investments to share their understanding of the drivers behind recent market activity:
The view from Aberdeen Standard Investments
What we're seeing at the moment is, in our view, a short-term rush out of risk assets into cash, which is a reaction to the fairly rapid increase in global bond yields over the last couple of months.
This rise in yields has been well within our expectations, but the speed of the move combined with some higher inflation readings has driven profit taking in equities. The speed of the drop in share prices may also be fuelled by forced selling, especially among investors who have been wrongly positioned in leveraged short-volatility products.


The question now is where and when the market correction stops?
Given short-term movements markets are inherently difficult to forecast, we focus on the longer-term trends:
We have a positive view on global economic activity in 2018

In particular, investors should be reassured in coming days and weeks by the strength of company profits, and the dividends and share buybacks which high levels of company cash allow.

US earnings are particularly strong

This is partly down to expectations for tax cuts boosting estimates for this year.

Inflation is likely to edge higher in coming months

However, we do not expect it to surge dramatically as structural headwinds remain significant. Central banks are therefore unlikely to be aggressive when tightening policy.
So, what next?
If investors can grow comfortable with this outlook then that should be enough to stem the sell-off and trigger a recovery. The worst thing that anyone can do now is make knee-jerk decisions.
Past history would suggest buying opportunities are appearing; previously over-bought conditions have now reversed, and valuations look more attractive. However, future gains in markets may be rather more measured, as confidence takes time to re-build.
How our portfolio managers are responding
The benefits of highly diversified asset allocation often shine more brightly when markets experience some turmoil. Matthew Webber, co-manager of the 1825 Portfolios, explains recent activity in relation to the 1825 portfolios: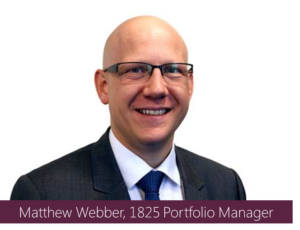 On Monday through Tuesday this week most of the major stock markets were rocked by, not bad news, but ironically by some good strong employment and wage growth data from the US. The sentiment here is that this would have a negative impact on US interest rates and adversely affect corporate growth. We are already seeing a rebound from these short term declines across Asia, Europe and the UK today at time of writing the US markets are not open.


It is entirely appropriate and expected that investors become focused on these short term moves, particular when there has been a prolonged period of rising markets. However it is important to understand that this latest market noise has not triggered any activity within the portfolios as we believe that by their construction, diversification research and philosophy the portfolios provide a solid foundation to house client assets across the risk spectrum.


The information in this blog should not be regarded as financial advice. Please remember that the value of your investment can go down as well as up and may be worth less than you paid in. Information is based on our understanding in February 2018.