Many people I've spoken to often assume it involves lots of complicated arrangements and things that HMRC won't like. With more (deserved) scrutiny on tax avoidance, there's even the danger that some people confuse proper tax planning with doing things they're not meant to.

It's very important to draw a distinction, and the definition I often like to use with clients is that tax planning lets you take advantage of what you're entitled to. A very simple concept, which is unfortunately not always that simple to implement.

The UK tax system is extremely complicated and is over 10 million words in length – the longest in the world, so don't worry if it confuses you: you're not alone.

The complexity of tax in the UK makes it very difficult for many people to know what they are entitled to and how to go about taking advantage of it. The BBC reported recently that less than a quarter of people eligible for the marriage tax allowance have claimed it. It's worth up to £220 this tax year, which could come in very handy with Christmas round the corner.
Looking for relief
The marriage tax allowance is just one example of a tax allowance/relief that you could be entitled to. There are allowances and reliefs across all the taxes but I'm going to concentrate on the ones that relate to income tax and capital gains tax.

Making use of these is vital if you want to maximise the money you have to enjoy and pass on as much as possible to the people you care about. Not many people realise it, but with the right mix of assets and proper planning, it's possible to access up to £33,000 of tax-free 'income' each tax year – that's £66,000 per couple: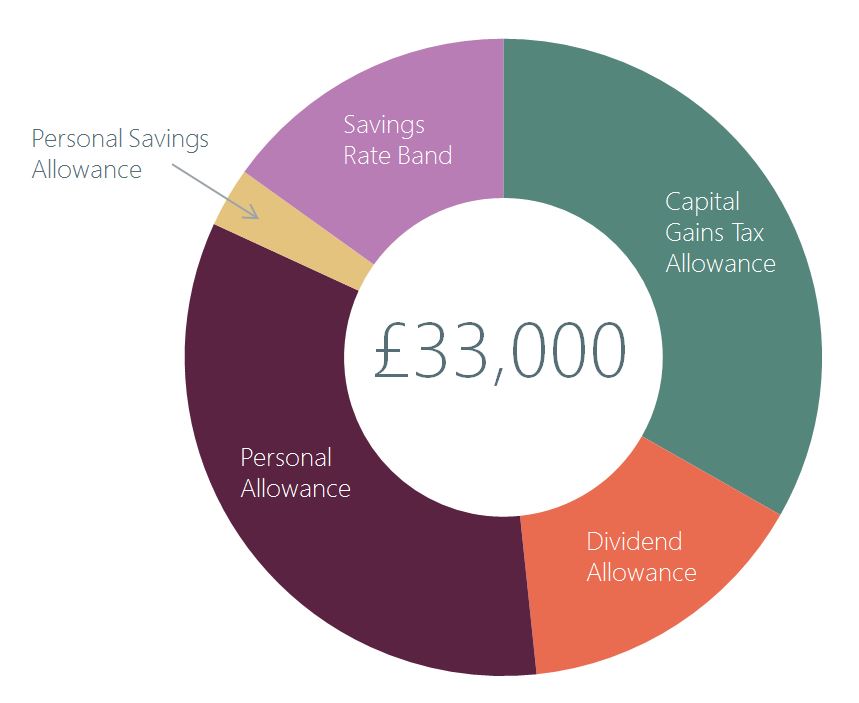 And with these allowances, it's a case of 'use it or lose it', so it may be worth using your allowances to extract savings tax free, even if it means withdrawing more than you need. This can allow you to reinvest the money back into more tax privileged investments or do some further tax planning.
Personal Allowance – income tax
How much income tax you pay each year depends on how much of your income is above the personal allowance. This is currently set at £11,000 for most of us, and is set to increase to £11,500 in April 2017 and £12,500 by 2020/21. Although it's worth noting that the personal allowance does reduce once your total income exceeds £100,000.


This is the simplest opportunity available to take income from investments without paying tax and shouldn't be overlooked.
Savings Rate Band
Savings income (which includes interest and offshore bond gains) of up to £5,000 can be taken tax free in addition to the personal allowance of £11,000. But if your 'earned income' exceeds the personal allowance, the £5,000 savings rate band is reduced by the excess. So if your earned income is more than £16,000, the £5,000 savings band would be lost.


However, with proper planning and the right mix of investments, it may still be possible to benefit from the savings rate band.


Unlike most other forms of savings income, the timing of gains from offshore bonds can be controlled to coincide with tax years when there's little or no other income. It's also possible to defer fixed pension incomes to create a window to extract offshore bond gains tax free.
Personal Savings Allowance
Since April 2016 the new personal savings allowance means that the first £1,000 of interest is tax free (£500 for higher rate taxpayers). This is in addition to the savings rate band mentioned above.
Dividend Income
Major reforms to dividend taxation were introduced in April 2016 with a new £5,000 annual dividend allowance.


We've gone into detail about this in aprevious blog, but the main message is to focus attention on managing taxable dividend income from investments so that it falls within the £5,000 dividend allowance.


To help with this it's important to maximise the use of tax wrappers, such as pensions and ISAs.
Capital Gains Tax Allowance
The Capital Gains Tax 'annual exempt amount' is the maximum profit you can make on selling assets without paying capital gains tax. It's currently set at £11,100.
Where to start with tax planning?
So with £33,000 in tax-free allowances available in 2016/17, how do you find out what you could be entitled to and how you make the most of those allowances?


The starting point is to look at your personal circumstances, what you earn/own and how much tax you've been paying. The next step is to see if you have taken advantage of everything you're entitled to.


The planning stage comes next. This looks at how you could use the various tax privileged wrappers that are available, such as pensions, ISAs, Unit Trusts/Open Ended Investment Companies and Offshore Bonds. Having the right investment strategy within each is key.


It's also worth looking at whether you could be sharing money within the family to give others a boost whilst saving tax at the same time. And don't worry – that doesn't necessarily mean giving up control. Trusts can be a very good way to set aside money for others without actually handing it over.


The final stage is reporting. All that planning has to be accurately reported to HMRC through your tax return or any other forms that may be needed.
Remaining tax-efficient
Setting things up tax efficiently isn't the end of the journey though. It's critical that things are kept under review to make sure any changes in your personal circumstances or goals and priorities and any changes in the tax rules are taken into account.


If you'd like to make sure that you're taking advantage of what you're entitled to, please speak to your 1825 Financial Planner or contact our specialist tax and estate planning advisers:


Phone – 0113 228 0900
Call charges will vary, opening times are Monday-Friday 9am-5pm.
Email - pcs@1825.com