Looking at all the different reliefs and allowances available to you as part of the same plan, it's possible to take a tax-free income of up to £33,800 this tax year. So proper tax planning is certainly not to be sniffed at – it can give a valuable boost to your savings, or if you're in retirement already, it could make a big difference to how long your money will last.
I should say though that the headline £30k figure won't be achievable for everyone; tax treatment depends on your personal circumstances, which is why it's important to speak to a financial planner to see exactly how you can make the most of your individual situation.
Tax planning or tax avoidance – what's legal?
I want to be really clear on this point as the recent 'Paradise Papers' scandal may have cast some doubt on whether tax planning is legally (or morally) approved. Tax planning is not the same as tax avoidance and the distinction is very important.
Tax planning is about using the government-sanctioned allowances that you're entitled to. One of the reasons the government offer allowances is to encourage investment and using them is completely above board. Using what the government gives you is a pretty simple concept, however the UK tax system is so complicated that it's not always particularly simple to know what you're entitled to or how to use it.
So here's a quick snapshot of the main allowances it's worth looking into: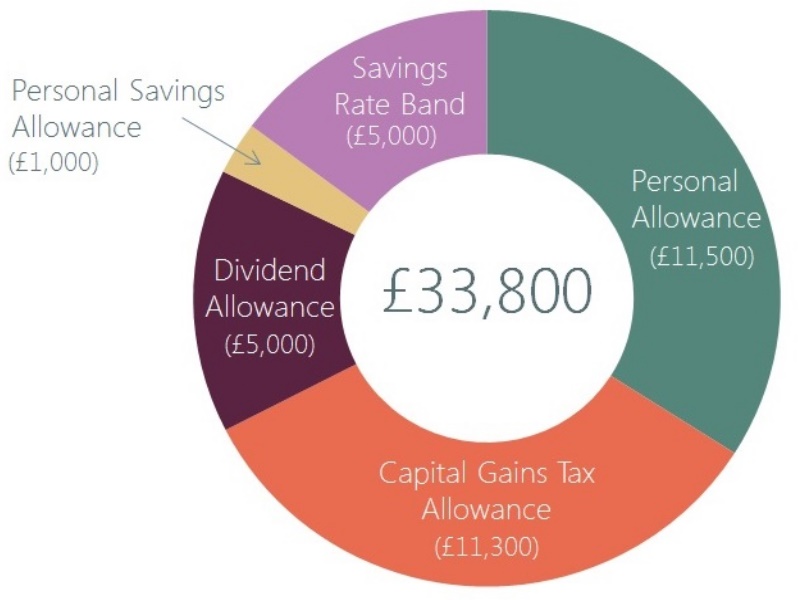 It's also worth mentioning that couples can enjoy double this amount by organising their finances in a way to make the most of their combined allowances.
Income without tax
Your Personal Allowance, Personal Savings Allowance and Savings Rate Band protect some of your earnings and interest from income tax. One of the recurring myths we hear about income tax is that you don't pay it in retirement. This simply isn't true – you pay tax on any income over your Personal Allowance (£11,500 this tax year), including income that you take from your pension.
However, thanks to Pensions Freedoms you have more control over how and when you take your money, so it's possible to tailor your withdrawals to make the best use of these allowances. If you're starting to take money from your pension it's well worth a chat with your financial planner to make sure you're not giving more to the taxman than you need to.
Your Dividend Allowance and Capital Gains Tax (CGT) Allowance deal with different kinds of tax so I'll look at those in a bit more detail in their own right.
Dividend Allowance – cuts are coming
In the current 2017/18 tax year, you don't pay any tax on the first £5,000 of dividend income you receive from your investments. However, this allowance is set to be cut to £2000 from 6 April 2018. The lower allowance is most likely to affect small business owners who pay themselves in dividends, so if that's you then it's a good idea to get in touch with your financial planner to discuss your strategy.
But business owner or not, it's important to try and manage your taxable dividend income from investments so that it falls within the allowance. Holding your investments in tax wrappers, such as an ISA or pension, can help with this.
Capital Gains Tax – decision time
The Capital Gains Tax 'annual exempt amount' is the maximum profit you can make on selling assets without paying capital gains tax. It's currently set at £11,300 for the 2017/18 tax year.
If you have a large portfolio of investments that will be subject to CGT when you cash them in, it could be worth considering selling some assets that have risen in value each year so that you can make the most of your annual CGT Allowance. If you store up your assets to sell all at once later on, you could be walking into a large CGT bill in the future. Selling investments won't necessarily be the best thing to do though, so talk to your financial planner before you do anything if you're worried about Capital Gains Tax.
Still saving into your pension? Look at your Annual Allowance
A pension is one of the most tax-efficient savings vehicles there is, so making the most of the generous tax relief on offer is a key building block when creating a good financial plan. The Annual Allowance is the limit on how much you can pay into your pension and still qualify for tax relief. This tax year it's set at £40,000 for most people, although if you're total income is more than £110,000 you could see it reduced to as low as £10,000.
If you can afford to maximise your pension contributions up to your Annual Allowance it's normally a good idea. The allowance refreshes each tax year, so you'll get a new one in April. However that doesn't necessarily mean that unused allowances are lost forever, as you can 'carry forward' any unused allowance from the three previous years.
However, under the current pension system you can't get tax relief on more than you earn. If you're in the position where you are playing catch up with your pension funding this might restrict how much you can pay in this year so putting away money each year is more likely to mean that you can benefit from the full tax relief available.
Don't forget about your ISA!
The good old ISA is a staple of tax year end transactions. Unlike your Annual Allowance there's no 'carry forward' available so it really is a case of use that £20,000 allowance or lose it.
Keeping money in a Cash ISA means that the interest is tax free, while with a Stocks & Shares ISA you don't have to worry about paying income tax or CGT on your investment growth. Of course, investment growth is a nice problem to have – and it's never guaranteed! With a Stocks & Shares ISA, (and the pension I mentioned above) the value of your investment can go down as well as up and you may get back less than you put in.
Got kids? There's a LISA deadline looming…
There are another couple of ISAs on the market specifically aimed at people buying their first home; the 'Help-to-Buy (HTB) ISA' and the 'Lifetime ISA' (LISA). This is the first year that it's been possible to open a LISA meaning that some people will be in a funny situation where they have both products.
Both types of ISA offer a 25% government bonus when the funds are used to buy a first home. However, you won't get the bonus on both ISAs so it's important to transfer the money into one before using it. The 2017/18 tax year is the only window available to move your HTB ISA into your LISA without it counting towards your ISA allowance. So if you (or someone you know) have both, it's worth looking at making a move before the 6th of April.
Spare yourself the stress this Tax Year End
Making the most of your allowances in each tax year is important, valuable, and can be quite complex. So why rush it?
Speak to your financial planner to take advantage of the opportunities that are open to you before 6 April. Then while others are scrambling in the eleventh hour you can sit back, safe in the knowledge that it's already taken care of.
If you don't currently have an adviser, we'd be delighted to help you look after your finances. Get in touch for a no-obligation consultation with one of our financial planners to see what we can do for you.
The information in this blog should not be regarded as financial advice. Tax rules are based on your individual circumstances and may change in the future; this is based on our understanding in January 2018.