When markets are deep in the red, it's natural for fear to creep into your psyche. For example, the fear that markets will keep falling. There could be a very strong temptation to sell your investments, hold cash and completely de-risk your portfolio. This, however, could be counterproductive as it would immediately convert a 'paper loss' into an actual loss of capital.
Another big consideration then follows if you do decide to cash in your investments; when do you buy back into the market? The temptation is to wait until you've seen some positive signs of a market recovery before having the confidence to re-invest. The problem here is that you run the risk of missing out on any market bounce and end up falling into the trap that every investor wants to avoid – selling low and buying high.
Evidence suggests (see table - FTSE All Share: Effect of missing best days) that continuing to remain invested, even during particularly volatile markets, can be a sensible course of action. During such periods, sharp market declines have been followed, just as quickly, by strong recoveries with indices whipsawing around. It's for this reason that attempting to time the bottom of the market has been likened to trying to catch a falling knife! As just one example in the current period of volatility, on Tuesday 24 March, the FTSE All-Share index, after a significant period of falls, delivered almost 9% of growth on that one, single day. Many medium risk investors might be comfortable with a 5-6% annual investment return, yet the index returned around 18 months of that in a single day. It can be damaging to miss out on those periods of recovery.
Of course, the gain above could just as easily be wiped out by further substantial falls; we can expect a great deal of volatility over the coming months, as the market reacts to news on Covid-19 developments, but it's an example of how markets can surge, and, based on history, provides reason to remain optimistic, long term.
The table below, commissioned by Fidelity International, highlights the impact of missing the best 10, 20, 30 & 40 days of the FTSE All-Share over the last 15 years to the end of 31 March 2020:
FTSE All-Share Index1: effect of missing best days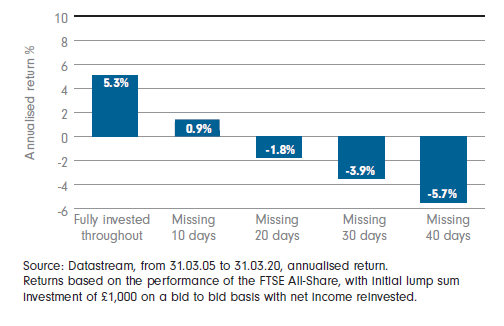 Past performance is not a reliable guide to future performance.
As we can see, the best possible return for investors in that timeframe was from remaining invested throughout the period, even during the highly significant Global Financial Crisis (GFC) back in 2008. However, returns fall quite significantly if an investor missed just the best 10 days of returns experienced by the FTSE All-Share. Taking this on further, by missing the best 20 days sees investors fall into negative returns territory, with the situation deteriorating further when missing the best 30 and 40 days. This is a good illustration of how weathering the volatility storm can be a wise choice.
And here's how the FTSE All-Share Index has performed in each of the last five years:

Source: Datastream from 31.03.15 to 31.03.20 on bid-bid basis with net income reinvested.
It's at times like these when the value of financial planning and advice can really be appreciated. Working with you to understand your long term financial planning objectives, and ensuring your investments accurately reflect just how much risk you are comfortable in taking, we'll tailor an investment strategy, bespoke to your needs. A robust, long term financial plan, that includes a clear and well-defined investment strategy, should help give you the reassurance to withstand such times of market volatility, rather than over-reacting to the bumpiness of the journey, however uncomfortable it can sometimes feel.
If you've any queries, please contact your 1825 Financial Planner or, if you're new to 1825, Contact Us and we'll be happy to help.
The information in this blog should not be regarded as financial advice. Please remember that the value of investments can fall as well as rise and you could get back less than you paid in. All information is based on our understanding in May 2020.
1FTSE International Limited ('FTSE') ©FTSE 2020. 'FTSE®' is a trade mark of the London Stock Exchange Group companies and is used by FTSE International Limited under licence. All rights in the FTSE indices and/or FTSE ratings vest in FTSE and/or its licensors. Neither FTSE nor its licensors accept any liability for any errors or omissions in the FTSE indices and/or FTSE ratings or underlying data. No further distribution of FTSE Data is permitted without FTSE's express written consent.